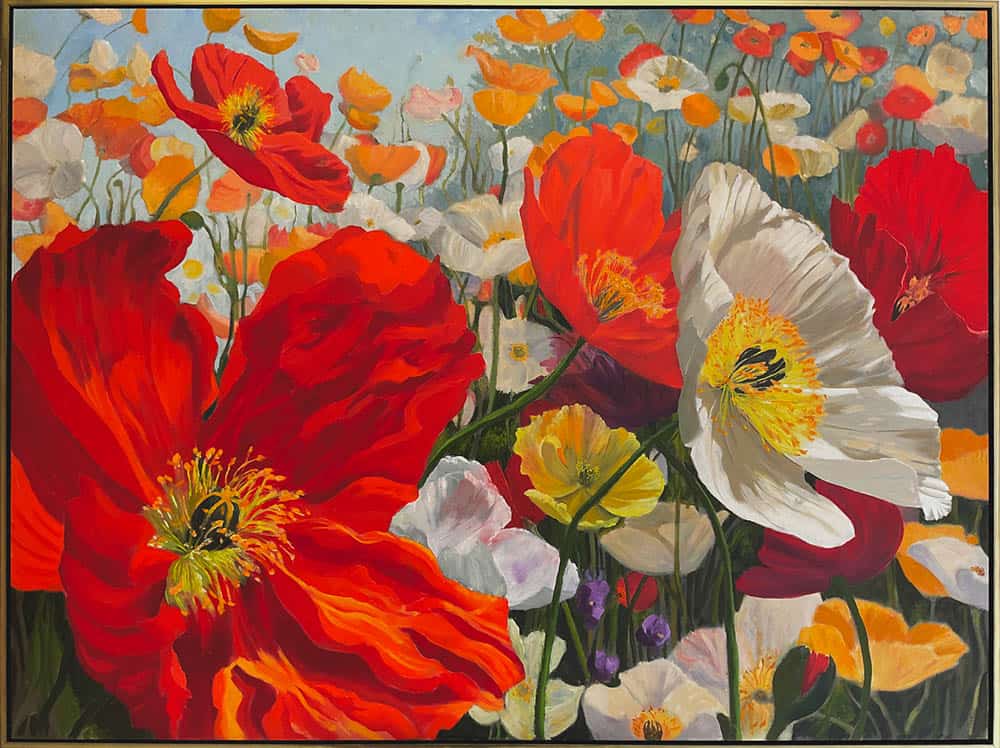 Upcoming Exhibition 30 April to 29 May
The Magic of Light – solo exhibition by Roger Beale AO
Light is the special ingredient that makes for memorable art according to Roger Beale AO.
Roger is one of Canberra's best-known artists – exhibiting since 1984 in the national capital.
This show has all of Roger's characteristic subjects painted with dramatic realism. There are lush flowers ranging in size from huge to tiny, powerful and nostalgic landscapes, portrait sketches of the characters of Paris's Rive Gauche and detailed pen and ink drawings.
Join us at the opening 2pm Saturday 30 April.  Download full details HERE:
Light caressing the edge of an object, revealing its personality, then fading into darkness combines with composition and colour to make memorable art.
Every painting in this series has a glow. I am entranced by the way light, especially warm slanting light, brings flowers, landscapes and people to life.
My subjects this year include Paris's famous Luxembourg Gardens in Spring, café portraits of the characters of the 6th arrondissement in the heart of Paris's left bank (Rive Gauche), through vertiginous vineyards in Piedmont to moody memories of Sicily.
And, of course, a revel of glorious blooms from our spring and summer. All are painted in my signature classical realist style with emphasis on the fall of light across the subject.
Headlining the show are two spectacular poppies – 2m tall – one a mirror image of the other. One with a black background and one on white.
Roger Beale AO: The Magic of Light
THE ARTIST

Roger Beale is one of Canberra's better known artists with numerous solo and group shows
since 1984. He is classically trained (teachers include the late Betty and Roy Churcher,
Melville Haysom, John Molvig and the faculty of the Florence School of Art) and paints in a
realist style in the European tradition.
His art is held in private and public collections around Australia and the world, including
several Ambassadorial residences. Canberra's famous Ottoman Restaurant had a notable
collection of his large flower paintings.
Canberra's most eminent art critic Professor Sasha Grishin said in
his review of Beale's 2019 Humble House exhibition:
There is little doubt that Beale is committed to his craft and is passionate about his
work and his sense of authenticity to the experience of the place is evident throughout
the show. … The strength … lies in sensitive treatment of light hinting at the passing
seasons and a certain transience of life in contrast to the permanence of the
landscape.
Many of Beale's finest works could be described as mood paintings set within a
romantic sensibility. At their best, they are highly evocative and lyrical and hark back
to earlier traditions and conventions in art.
Roger Beale retired as a Portfolio Secretary of Environment and Heritage in 2004 after many
years as one of Australia's most senior public servants to concentrate on his art practice. He
served as a member of the UN IPCC, Climate Commissioner, Chair of the ACT Electoral
Commission and an environmental adviser to the Chinese government. He led many inquiries
and reviews and was a board member of Australia Post, the Federal Airports Corporation,
Brisbane Airport Corporation and Connector Motorways.
He paints from a wheelchair as a result of childhood polio and, besides painting, is a member
of the Board of the Australian Centre of Christianity and Culture writes for policy journals
and advocates for the disabled. Large paintings like the 2m poppies are painted on their side
so that they can be reached from the chair.

93 Wollongong St Fyshwick Canberra Open Wednesday – Sunday 10am – 4pm