M16 Artspace is pleased to announce the opening of 4 new exhibitions.

Exhibitions from noon Friday 19th August and run through to Sunday 4th September.

Opening Thursday 18th August 6 – 8 pm.

Please note: for all events at M16 visitors must sign in on entry.

Gallery 1a:

Into the Forest
Eva Van Gorsel & Manuel Pfeiffer

Gallery 1b:

Reconstructed Landscapes 
Emilio Cresciani

Gallery 2:

Conversations with My-Self and Others
Lisa Stonham

Gallery 3:

The Good Mother
Vee Malnar

Chutespace:

UNMASKED
Sandy Morrow

Galleries open Wednesday to Sunday 12-5pm.
M16 Artspace
21 Blaxland Crescent Griffith, Canberra
Office: Wednesday – Friday, 12 – 5
www.m16artspace.com
For general enquiries: (02) 6295 9438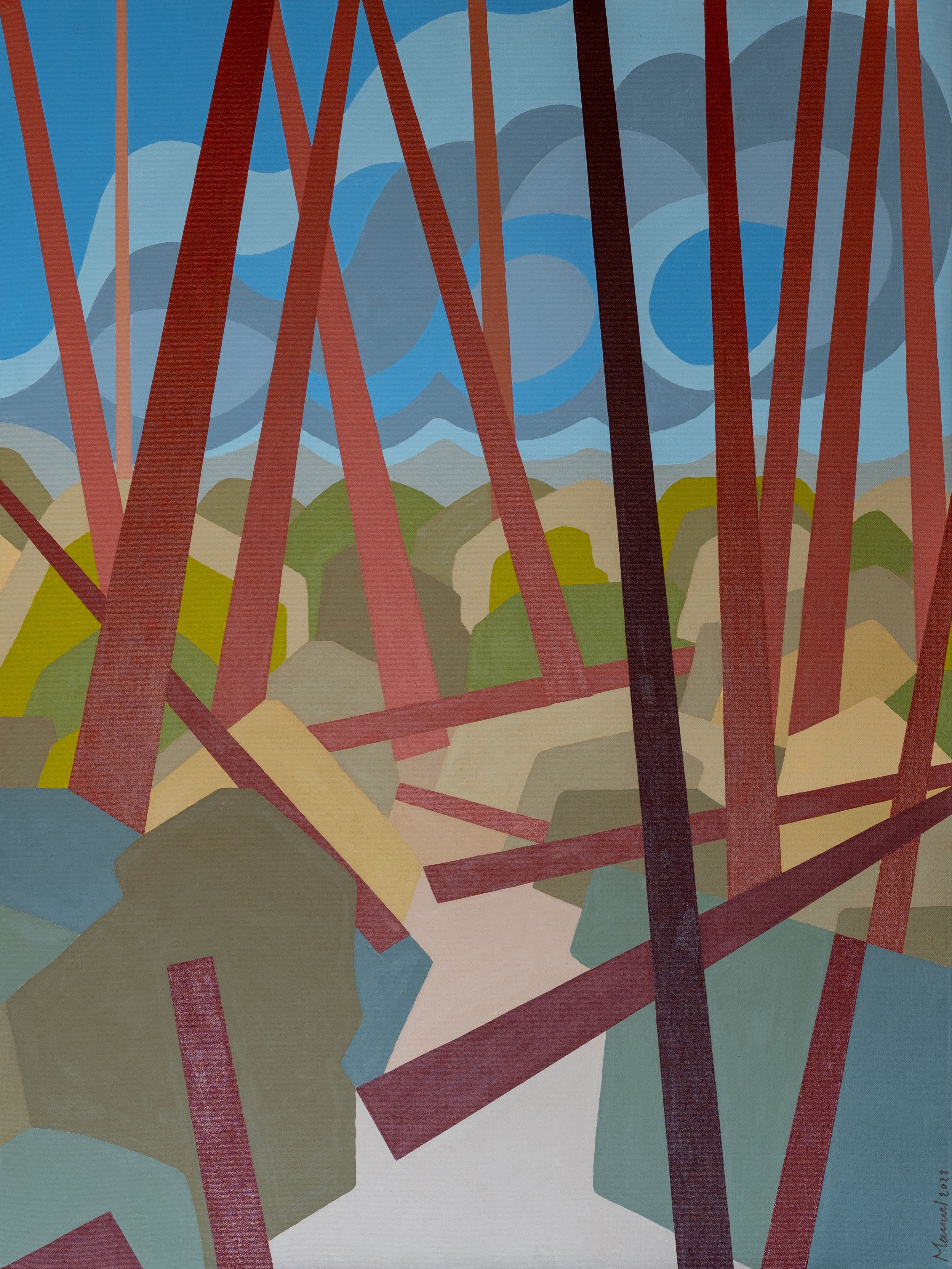 Gallery 1a
Into the Forest
Eva Van Gorsel & Manuel PfeifferThe exhibition "Into the Forest" aims to raise awareness of the role our forests have on our planet, our climate and our lives by showcasing the beauty of mostly regional treescapes and woodlands using imagery, sculpture and a sound installation.
The importance of forests can not be underestimated. They have a critical role in the climate system, they provide us with clean air, water and food. They are home to most of the world's terrestrial biodiversity. Forests are also good for our well-being. They make us feel good – the colours, sounds, the scent of the trees: They all give us comfort. Being in nature and connecting through our senses closes a gap that we have opened between us and the natural world. Yet despite this, deforestation and forest degradation continue to take place at alarming rates.
While the exhibition brings some of the calming effects of forests into the gallery environment the artworks also result in a display that invites reflection on our impact on the natural environment.
Image: Manuel Pfeiffer, Allergo Furioso, 2022. Acrylic on canvas. 102 x 76 cm. Photo courtesy of the artist.
Gallery 1b
Reconstructed Landscapes 
Emilio Cresciani
In 2020 the land was burning. Native forests destroyed. Australia, a deforestation hotspot on the WWF global list.
I took an analogue camera into our national parks capturing patterns of branches, bark and leaves.
I sliced the positive slide film into different shapes and sizes, like wood-chips, and rearranged them into bold abstract compositions. These photo-chips are a metaphor of what we are doing to our natural environment
Image: Emilio Cresciani, Blue Moutains National Park, 2021. Photo courtesy of artist.
Gallery 2
Conversations with My-Self and Others
Lisa StonhamIn Conversations with My-Self and Others, Lisa Stonham explores and exaggerates the tiny perfect moments … the 'right now' – that a more isolated and contemplative existence led her to appreciate.
She captures ephemeral and impressionistic moments within the context of the everyday. These colour driven abstractions engage with the temporal nature of light and physical space.
Working in the field with existing locations and available light, Lisa's work is at a concourse between documentary and abstraction. Although factual, her photographs are detached from physical or concrete reality and resistant to any narrative sense.
Presented without objective context, the compositions and colour relationships become a subject in themselves. A non-objective 'visual conversation'.
Image: Lisa Stonham, Every Day Rainbow (in Blue), 2021. Eco Solvent Print on Solve Glaze Satin Rag with coloured timber shadow frame. Courtesy the artist
Gallery 3
The Good Mother
Vee Malnar
My current work is an exploration of the experience of mothers and children in domestic situations. I take photographs as a starting point, and work from those to create a painting. The subject, the mother is central to the theme. Where once she operated more as a self-centred being, by becoming a mother she now devotes most of her time to her children.
Image: Vee Malnar, Multi-tasking. Courtesy of the artist.
Chutespace
UNMASKED
Sandy Morrow
2022
surgical masks, digital print, mixed media
Have you ever considered who you are underneath the mask of your persona?
When we are born, we existed free from these constraints.
Our Natural Essence is always there, every moment of our lives.
UNMASKED personifies the recognition of Source Energy, expressing as shapes, forms and patterns.
Chutespace is curated by Kerry Shepherdson (M16 Studio 25).